Buyers
Intro for Buyers
So, you've decided that you are sick and tired of paying down someone else's mortgage with your rent payment that is always on time each month – GREAT!!! Now what? This is the step many consumers get confused and stuck on because nobody is there to guide them in the right direction. Well, at the Mickey Herzing Team, we are here to change that.
Buying a home is one of the most exciting, yet sometimes stressful events in someone's life. For most people, it is the largest investment they will ever make in their life, so you can see why it is so important to have the right Real Estate professional on your side walking you through the entire process from that first phone call to moving boxes into your new home.
Why Use the Mickey Herzing Team?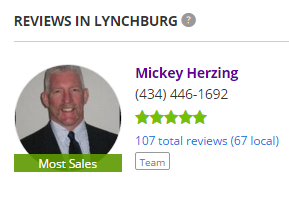 The Mickey Herzing Team has over 35 years of Real Estate experience and is always looking for ways to improve the way they do business. Even though for the last five years Mickey has been in the Top 10 agents in the Lynchburg MLS, we still strive to improve our efforts day-to-day, month-to-month, and even year-to-year. By doing business this way, we were able to get Mickey the distinction of Top Selling Zillow Agent in Lynchburg during the 2015-2018 Calendar Years, and are looking good to repeat once again in 2019.
To get an idea as to what kind of work the Mickey Herzing Team provides for their clients, take a look at some of the
Testimonials
past clients have written about Mickey and his team on Zillow.com.
Important Tips and Tools for Buyers
The Mickey Herzing Team works tirelessly to provide the greatest level of support and representation for our clients; and we never stop adding to our collection of helpful tips and tools for Buyers to utilize before, during and after the Home-Buying process.
Below you will find a few links to many of our useful items we provide to our clients in order to aid them in their Real Estate experience.
MHT's Home Buying Process


This is a One-Page Flyer that breaks down the entire Real Estate Process into Easy-to-Follow steps. It covers everything from the Initial Mortgage Pre-Qualification Call all the way to Moving Into Your New Home; and EVERYTHING in between. This Step-by-step breakdown makes it easy for the consumer to know where they are and what the next step is at any point. Use this as a road map to search, find and purchase your New Home.

Importance of a Mortgage Broker and List of Selected Lenders

Many times buyers begin the process by talking to their personal bank about about possible loan options because they feel they have an established relationship with that bank from past business. At times this will be comforting to the buyer, but in reality they may not be getting the best deal on the market. Most large banks can only shop loans offered by their company, while Mortgage Brokers are able to shop for loans from almost any company allowing them to typically offer better Loan Rates as well as more Financing Options. The Mickey Herzing Team has worked with many of the lenders in town and have come up with a list of All-Star Lenders that are able to offer a number of Loan Options that are rarely, if ever, beaten by a bank. Ask us for our List of Preferred Mortgage Lenders to find out who we believe are the Best in the Business in Lynchburg.

Lynchburg MLS Client Search Portal

Searching for a New Home can be quite frustrating when you don't know where to begin. Many consumers treat it as an Easter Egg Hunt – meaning they drive around and "hope" to see a home they might like and then begin researching that home. Where in reality, it should be a Process of Elimination. You should begin by eliminating the types, locations, prices, etc of homes you do not like. You are then left with a smaller group of homes that fit your Search Criteria. What we can do is offer you a Complimentary MLS Search Portal to help you in finding the right place to call HOME. We begin by gathering your Criteria and then enter it into the system. At that point, any home that matches your criteria will automatically be sent to your Portal where you can View the details and pictures, Save the ones you like or Reject the homes you don't like to continue narrowing down your options until the ones left are the ones for you. Ask us about how you can get a FREE MLS Client Search Portal and begin searching for your New Home the way it was meant to be done,

Purpose of a Home Inspector and List of Qualified Inspectors

Once you have made a successful offer on a home, the next step is to get a Home Inspection done. The purpose of the Home Inspection is so that as the New Owner, you will know what issues may have happened in the past, and what issues you may have to keep an eye out for in the time you own the home. This is vital for knowing what you are getting into with your New Home and should be treated just as importantly. Think of it as your Owner's Manual for your Home.

Helpful Items of Value (IOVs)

Each month we like to add one new Item of Value to our website for consumers to check out and get ideas for the future. They provide useful tips and information for anything from Tips to Accomplish Goals – to Mobile Apps that help you stay healthy – to How to Create Value in your Home without Spending Much Money. Check out our Blog Page to see what Helpful Tips we provide each month.

Vendor List of Local Professionals

Ever been in your home and realize you have NO IDEA who to call to solve an issue? Just ask The Mickey Herzing Team and we will get you connected with one of the many Professional Vendors we know and work with in town. As you always hear, WHO you know is almost as important as WHAT you know; and over the years we have worked with most of the professionals in town and only recommend those professionals we would use in our own homes.